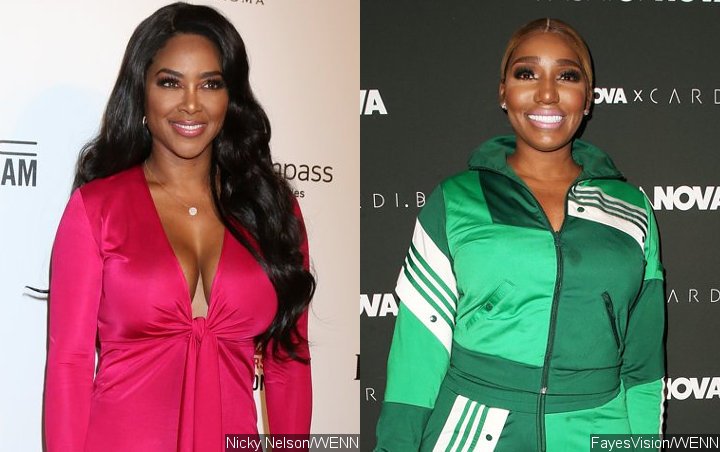 In a new interview, the mom of one goes on saying that she's over her 'The Real Housewives of Atlanta' co-star because 'I just don't have time for nonsense.'
AceShowbiz – Kenya Moore is not holding back. In a recent interview, the 48-year-old TV star didn't mince her words when it comes to her nemesis and "The Real Housewives of Atlanta" co-star NeNe Leakes, calling her a "brat."
Speaking to HollywoodLife.com at the first annual BravoCon in New York City, Kenya said of the 51-year-old Bravo personality, "I think it's a kind of sad situation that a person is well into their fifties can act like a spoiled little brat."
The mom of one went on adding, "So, I can tell you that she definitely tries to get physical. And I can just tell you that I'm over her. I just don't have time for nonsense."
"I have a daughter now, so I really don't have time for nonsense so that's the way I am with everything," she continued, referring to daughter Brooklyn whom she shares with estranged husband Marc Daly.
Additionally, Kenya said she wanted to just focus on her hair care line. "Kenya Moore Haircare is in over 2200 Sally Beauty stores. I am expanding the line. I'm going into other things in the beauty world, so I'm just focusing on being a CEO mom and just being a boss and showing my daughter what it looks like up close and personal to be a boss," she detailed.
Kenya and NeNe have always had history but things further go south because NeNe allegedly talked to Marc behind her back, leading Kenya to confront NeNe during filming for "RHOA" in Athens, Greece. The women also reportedly almost had a physical altercation at Kandi Burruss' baby shower with Kenya claiming that NeNe attempted to spit on her.
Ruling out reconciliation with NeNe, Kenya previously said of the incident, "When someone tries to spit on you, I think they'll not ever be friends with you. That's pretty much done."