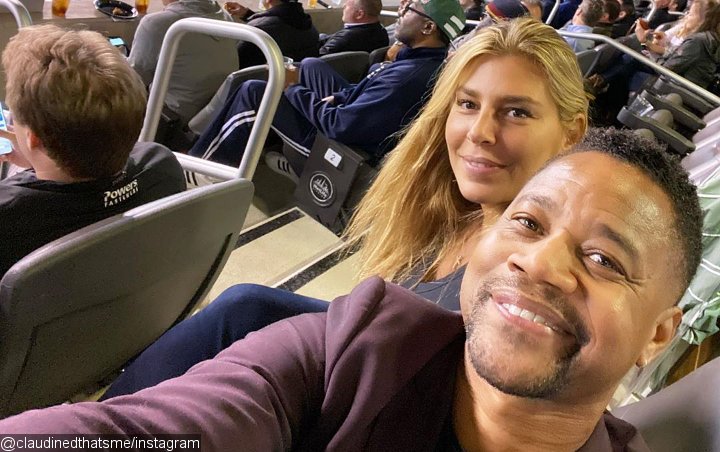 In a video which has circulated online, Claudine De Niro is seen lashing out at the 'People v. O. J. Simpson: American Crime Story' star and knocking over a glass before she's removed from the bar.
AceShowbiz –
Cuba Gooding Jr. was confronted by his own girlfriend Claudine De Niro during one of their latest night outings. The couple was partying at Mango's Tropical Cafe in South Beach on Saturday, November 9 when they got into a heated argument.
In a video obtained by TMZ, Claudine appeared to be freaking out over something and lashed out at the "Selma" star. She spoke super close to his face while the 51-year-old actor remained stoic during the conversation.
It's unclear what they were arguing over, but Claudine lost her cool and knocked over a shot glass. She then flung her arm out and wiped out other glasses from the deck before walking away. According to eyewitnesses, Claudine was eventually thrown out from the bar for getting too aggressive with security.
Cuba's attorney Mark Heller has addressed the report. Playing down the couple's alleged argument, he claims that Claudine got a "little over playful" while partying with her boyfriend.
Claudine was with Cuba the night he was alleged of groping a woman in New York City during a party in June. The woman claimed he grabbed her breast without her consent during a night out at the Magic Hour Rooftop Bar and Lounge last summer.
He has maintained his innocence and pleaded not guilty to the charges. The trial for the case has been delayed in the wake of another lawsuit accusing the Academy Award-winning actor of making an inappropriate joke about a penis and grabbing her butt in October 2018.
Other women have come with misconduct claims against Cuba, bringing the total number of accusers and alleged victims to five. One of them claimed the "American Horror Story: Roanoke" star reached his hand under her skirt and penetrated her with his finger.
He is due back in court on December 13.