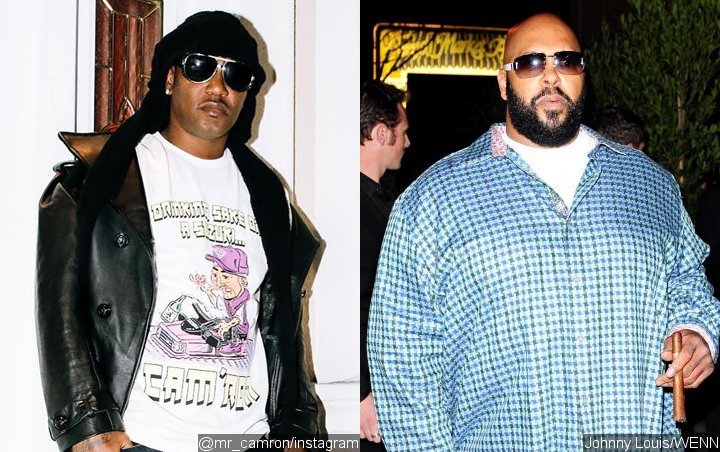 The rapper says in an interview that the now-incarcerated record producer once confronted him outside a nightclub in Los Angeles because he believed Cam'ron owed him money.
AceShowbiz – Cam'ron once had a not-so-nice encounter with Suge Knight. Making an appearance on "Shade 45", the rapper claimed that the incarcerated record producer once threatened to beat him up since he believed Cam'ron owed him money.
Recalling the incident, the Harlem native said that it happened outside a night club in Los Angeles, as Suge told him that he owed him some money because he "used that [Tupac Shakur] beat on your album. That's my beat." However, Cam'ron was adamant that the beat isn't Suge's, explaining to him that Daz Dillinger was the one who created the beat and gave him permission to use it.
But Suge wasn't budging and still insisted that the beat was his, even went as far as threatening Cam'ron. According to the 43-year-old, Suge said at the time, "Well, I'll tell you right now. I f**k n****s up who don't give me money." Cam'ron added, "So now my man is staring to flinch [like he is ready to attack.] So I'm like, 'Yo, I f**k n****s up too. What we doin? What's poppin'?' "
His threat apparently worked since Suge later said, "You know what, it ain't even no big deal, bruh. We all good. It's all good."
"I don't know him that well, and he's in jail going through whatever he's going through. So, I ain't gonna try to s**t on his name or nothing, but I just thought that he probably thought we would be intimated and prey on that, and I wasn't intimated cause it's something we could have handled business-wise," Cam'ron explained. "But, just three in the morning or two in the morning outside the club in L.A. and it was just more of a street situation, and we with that."
He concluded, "So, if it was business he could have called me tomorrow and discussed it and we could have handled it the right way. But, to be honest he didn't even trip after that. He just walked away."